Nordic Skiing & Touring
Nordic skiing and ski touring
Nordic skiers have plenty of opportunities to enjoy themselves both at the Nordic Center and in backcountry terrain. The Mt. Shasta Nordic Center offers groomed trails, lessons and rentals for classic and skate skiing, as well as snowshoeing. You'll also find pull sleds, if you'd like to take a small child, and adaptive equipment for skiers with particular needs. The trails at the Nordic Center cater to all kinds of skiers, whether you're just getting started or enjoy a good cardio workout. There's plenty of climbing, too, where you'll earn views of Mount Shasta, the Eddy Mountains and Castle Crags.
Things to know
The Nordic Rental Center is open Thursday – Sunday during the regular season and 7 days a week during the Holiday season. Check the opening hours before you go as they can change throughout the season.
Located along Ski Park Highway, you'll definitely want to check road conditions after a storm and be prepared for snow in the parking lot at the Nordic Center. Plowing there sometimes happens later in the day.
The warming hut provides benches, a table and a place to get toasty by the woodstove. There are some snacks and warm drinks available for purchase. If you want to make a day of it, come prepared with your own lunch and warm beverages.
Cross country ski and snowshoe rentals are also available at The Fifth Season. You can pick up your rentals for no charge the evening before if you come in after 4pm (we close at 6pm).
Resources
The Nordic Center offers day rentals of equipment. If you're planning to ski or snowshoe for multiple days, get your rentals from The Fifth Season so you can keep them overnight.
Backcountry cross country equipment can be rented from The Fifth Season if you are going to adventure beyond the Nordic Center.
If you need to learn
The Nordic Center provides a variety of ways to learn, from group and private lessons to multi-week programs for youth and adults. Check out their website and sign up for Nordic's email list to stay up to date on offerings
Things to consider
The Nordic Center is off grid – you'll find a warming hut and porta-potties, but no electricity.
Dogs are not allowed on groomed ski trails, although you can take them on showshoe trails.
Beyond the Nordic Center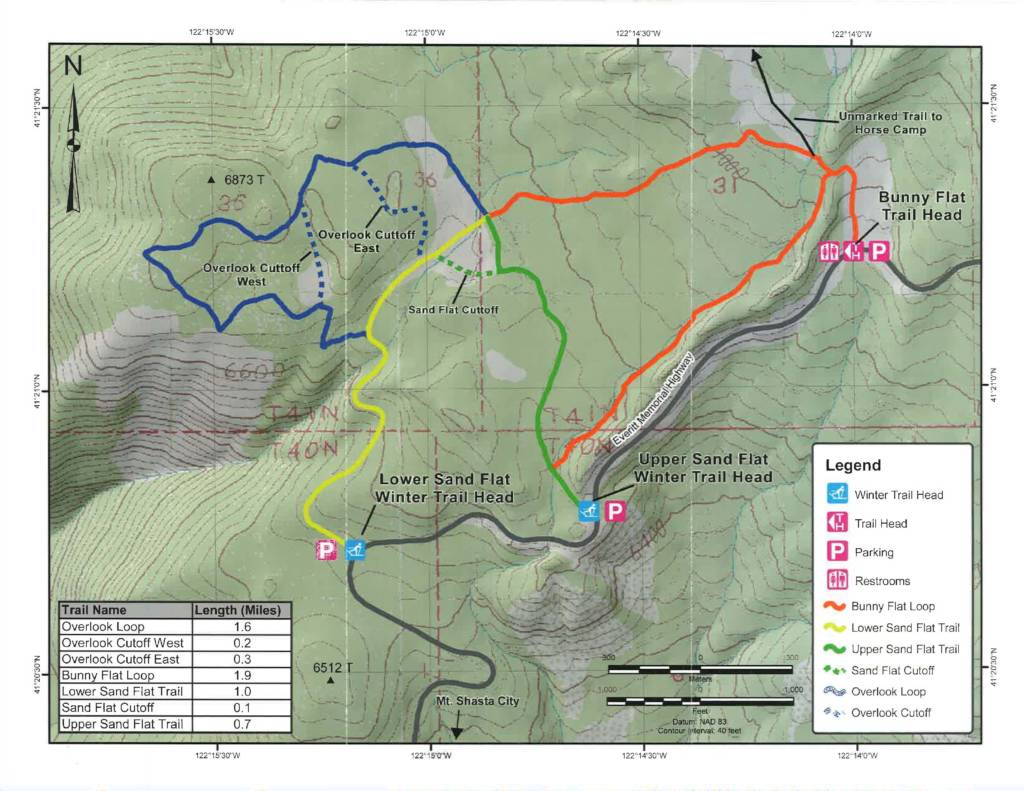 If you're comfortable getting off groomed trails (or want to become comfortable) there are a variety of options for cross country skiing. These are undeveloped trails where you may or may not find trail markings, could be breaking trail (especially if you're first in after a storm), you will need to route find and you'll be completely responsible for finding your way back to the car. You'll also need to evaluate the terrain for your skills. With all of that caution in mind, the backcountry Nordic skiing locations on Mount Shasta are absolutely beautiful, well-used and wonderful for adventurous beginners.
Some of these locations, like Sand Flat off Everitt Memorial Highway, are well used by other skiers and snowshoers, so you're likely to see other folks out there and to find tracks. Other locations are less used, and therefore you should consider your skill and comfort level in a situation where you're likely to be alone. Go prepared with a map and compass, as well as suitable supplies for an unplanned night outside.
Nordic skiing locations:
Sand Flat off Everitt Memorial Highway –
Upper Sand Flat is the place to go if you're new to ungroomed trails. The ski in from the trailhead climbs gently along a summertime road and leads to the open flat where you'll get terrific views of the mountain. Unless you come in right after a storm, you're likely to find both ski and snowshoe tracks to follow. You can make a lap around the flat and ski back out the way you came to the parking area. It's such a beautiful spot on a clear day that you may want to bring a picnic with you. From Sand Flat you may see other tracks branching off into the big trees, if you choose to follow those be sure to pay attention so you can find your way back.
Lower Sand Flat –
The ski in from the lower trailhead is a steeper way to enter Sand Flat. If you choose this trail, you'll need to be comfortable with some climbing and descending down the road. The parking area here has room for 3 or 4 cars.
Bunny Flat at the top of Everitt Memorial Highway –
This is the end of the road in the winter, where you'll find all kinds of folks enjoying the snow by sledding, cross country skiing, skinning up to ski or ride higher on the mountain and just plain enjoying the view. This is also an access point for snowmobiles, so while the parking lot is big, it can be full. Bunny Flat is the only trailhead on the mountain that has vault toilets. Read the Avalanche Center's description here.
Download the Forest Service map of the Sand Flat and Bunny Flat area here.
Things to know:
In the Sand Flat and Bunny Flat areas look for blue trail marker signs in the trees marking routes.
Dogs are allowed in the National Forest in these areas; however, they are not allowed in the Mount Shasta Wilderness area. Be mindful of your location if you're planning on taking your pooch.
Practice good trail etiquette: if you're snowshoeing, stay out of the ski track. If you're skiing, don't use the snowshoe track.
Snowmobiles are not allowed in the Sand Flat area, so you'll find quiet there.